What is a Kimono? What is an Obi?
The kimono is a traditional Japanese garment that was worn everyday until the Meiji period (1868-1912), when Western clothing culture was introduced. An obi is a belt-like accessory worn over the kimono around the waist.
Kimono and obi have developed in various ways using traditional Japanese techniques such as dyeing, weaving, and embroidery and so on.
Today, they are important elements of traditional Japanese beauty.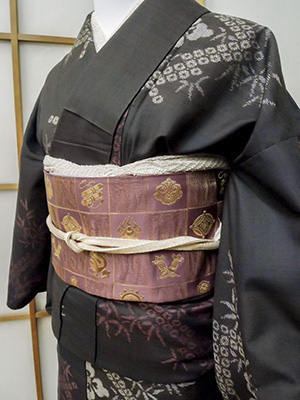 All of our items are made from used kimonos and obis.

The obi or kimono is untied and made into a single piece of fabric, and the fabric is cut out according to the pattern for the bag.
The bag is made into a one-of-a-kind bag by our trusted craftsmen in Japan.
The obi, with its various patterns applied using various techniques, is beautiful no matter where the pattern is cut from, and the design does not overlap when tailored as a bag.
Most kimonos and obis are made from silk, allowing you to enjoy the elegant luster unique to silk.
How to take care ?
All of our items are used kimonos and obis. Used kimonos and obis have actually been used for many years, so please understand that they may have minor stains or small chips.
We judge and label the materials of used kimonos and obis used in our products after careful examination.
Many of the used kimonos and obis that we use for materials are more than 30 years old and do not have a quality label tag attached, so it is difficult to determine the materials used.
Please understand and acknowledge that the components of the products may differ from the description. In the unlikely event that you have a question about the material of a product you have received, please contact us.
Decolorization and staining due to friction and wetting are inevitable. Please understand.
Put the item in a storage bag made of non-woven fabric or flannel. At that time, please do not put several kinds of insect repellents, mildew repellents, desiccants, etc. together. It may cause deterioration.
Wipe dry is the basic routine for daily care. Wipe dry with a soft, clean cloth.

Sub-materials other than kimono and obi
Synthetic leather material (polyurethane resin) is used as a secondary material other than kimono and obi.
Polyurethane materials deteriorate (peeling and stickiness) over time due to moisture in the air, ultraviolet rays, heat, and dirt.
Moisture in the air causes deterioration, so even if the product is stored as new, deterioration cannot be suppressed.
Also, please note that deterioration may be accelerated by usage conditions.
When soiled, soak a soft cloth in water and wring it out stiffly before wiping it off.
For oily stains, soak a soft cloth in neutral household detergent diluted with water and wring it out, then wipe with a cloth soaked in water and wrung out hard, so as not to leave any detergent residue.
Never use solvents such as benzene, thinner, etc.
If the synthetic leather surfaces are folded and stored so that they are in close contact with each other, the synthetic leather surfaces may stick to each other.
About the whole bag
Storing soiled synthetic leather in high temperature and humidity may cause mold and insect damage. Wrap the product in a breathable cloth or paper and store it in a well-ventilated place.
Leaving sweat or stains on the fabric for a long time may cause discoloration and weaken the fabric.
Please note that the product absorbs ultraviolet rays and tarnishes easily, so prolonged exposure to direct sunlight may cause yellowing or damage the fabric.